Roll over image to zoom in
Description
Let's go fishing!
Let your child enjoy hours of fun with the fishing toys for 2-4 years old girls and boys. The toddler fishing game includes 26 wooden fish puzzles which are patterned with the alphabet, numbers, and cute ocean creatures, making it a great teaching tool to develop their hand and eye coordination as well as their motor skills. It's never too early to begin STEM educational techniques. Best choice as Birthday gifts, holiday gifts, or Christmas gifts for your toddlers.
Designed for developing a kid's brain

Natural observation

Interpersonal communication

Body movement
How To Play
Assemble the handles and then place all wooden fish on our fishing pool fabric or the ground. Show your kid how to catch a fish by dangling the fishing pole near the fish to "catch" it, then take the fish off the line
When your kid catches one fish, you can teach him/her letters and words on these wooden fish. If they read the word correctly, then keep the fish, making a pile by their side.
The fishing game ends when all the fish are caught. Now it's time to let your kids practice counting and numbers. Add the scores together, the one who gets a higher score is the winner!
Learn about ocean animals
From angelfish to jellyfish, this 26-piece toddler fishing game filled with colorful ocean lives is perfect toys for a 2-4 years old boy and girl. Each piece of these blocks introduces a kind of ocean animals to your kids, which helps enhance their ocean recognition and ignite kids' sense of wonder and fascination with the ocean world.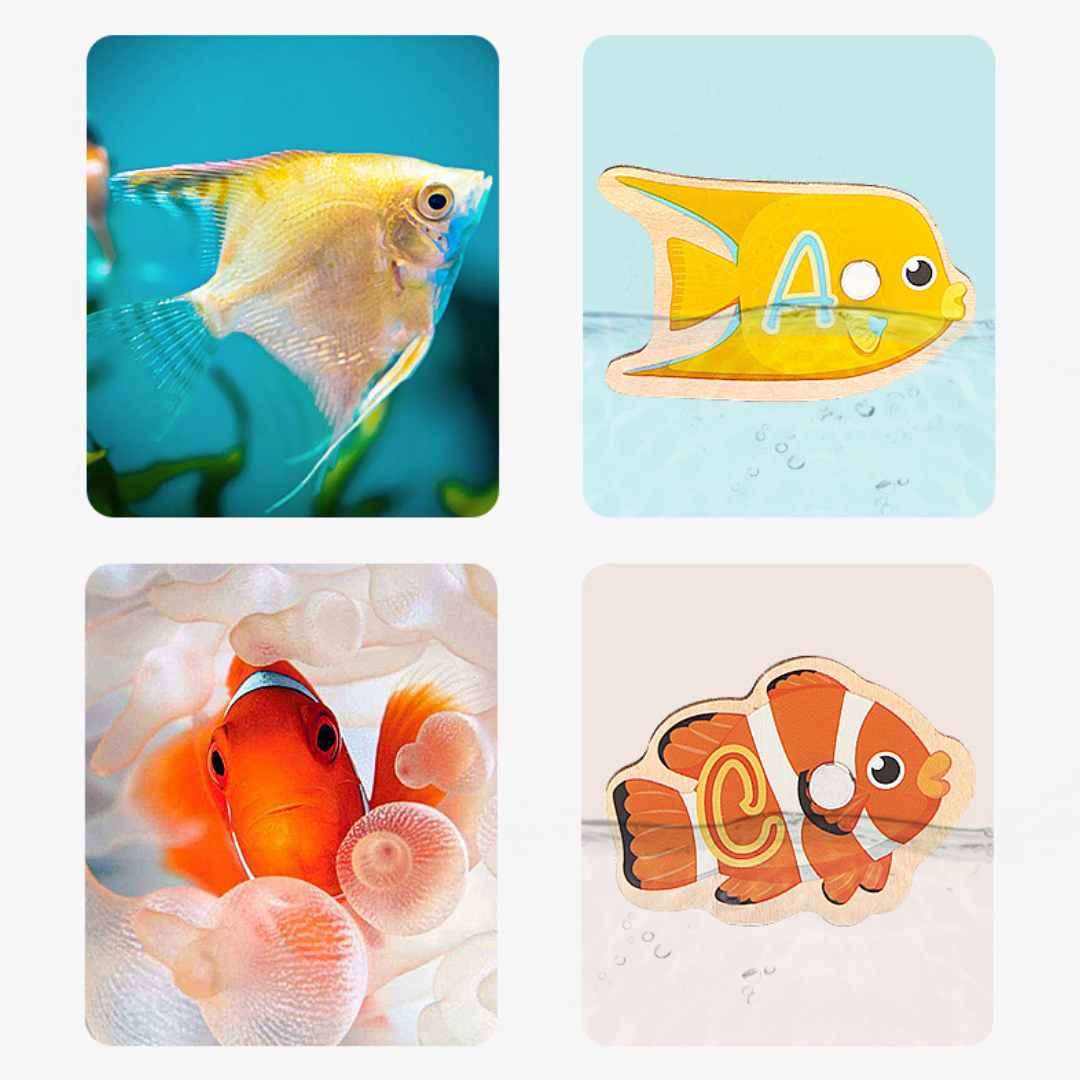 Polished Edge
The well-polished surface without sharp edges or splinters of this wooden fishing game is more secure as toys for 2-4 years old boys' little hands to explore.
Emulational Rod
As pretend play toys for 2-4 years old boy and girl, the fishing rods of this toddler fishing game is designed to imitate the real ones, with retractable string and comfortable size for your baby.
Strong Magnet
Baby can easily catch the fish using the fishing rod with a strong magnet. Nice choice as gifts for 2-4 years old boy and girl.
Product Specs:
1 Fishing Pole, 26 Ocean Creatures

Age recommendation:  2-4 years

Number of Players: One

Dimensions: 

5.1 x 7.3 inches
Item Weight: 0.88 pounds
2 Fishing Poles, 26 Ocean Creatures
Age recommendation:  2-4 years
Number of Players: 2
Dimensions: 7.1 x 7.3 inches
Item Weight: 1.32 pounds
About TOP BRIGHT: Established in 1989, Top Bright insists on the "Light Up Children's Talent" mission and provides environmentally friendly, safe, and educational wooden toys for children 0-6 years old around the world. Now Top Bright products are well sold in more than 30 counties and have won more and more parents' trust and affection. We are still working hard to provide high-quality educational toys and the best shopping experience for our valued customers like you.

International Shipping
Orders are processed and shipped within 0-5 days of placement.
We provide:
✈️ Free Shipping on orders over $79.00.
✈️ Standard Shipping: 6-18 business days according to different countries, the rates are from $5.90.
✈️ DHL Express Shipping: 3-5 business days, the rates are from $15.90.
The rate will vary depending on the destination and package weight. The shipping cost is calculated automatically on the checkout page.
Tracking information will be sent to you for each package shipped out. Once your order is shipped, we will send you a shipping confirmation email containing the tracking number and link so you can follow your parcel's journey.
We will send your items in one package and declare a reasonable low value to get through the custom. Generally, it works well for our items. However, if you do get taxed in an unpredictable situation, we are unable to pay for the tax. These charges are the responsibility of the buyer. CreatoyStore is not liable to these additional charges once the package is shipped to you.
Due to the COVID-19, shipping time has affected by the current global situation. We will try our best to cooperate with the best logistics companies in the world to ensure that toys can be delivered to you ASAP!
Return & Refund Policy
RETURN POLICY
CreatoyStore guarantees to refund any item purchased on our website if you are not satisfied by your purchase. All returns must be returned in acceptable condition and posted within 15 days of receiving your order.
You are responsible for return shipping fees. All merchandise must be unworn and in the same condition they were received. Products must be returned in the original box and/or packaging.We are not able to offer an exchange for items purchased. All returned items will be refunded once they have been received by our warehouse.
It can usually take up to 21 working days (excluding weekends and public holidays) for your return to be delivered back to our warehouse, depending on your location and which postal service you use.
REFUND POLICY
Once we receive your return parcel, it will be processed within 3 business days (excluding weekends and public holidays) and we will email you to let you know this has been refunded. The funds will go back to your original payment method. It typically takes 5-10 working days (excluding weekends and public holidays), depending on your bank/card issuer.
Orders that are already in the process of being shipped cannot be cancelled. If you really don't want it, you can go through the return process.
Fishing game
Good service, nice game would have been better with 2 fishing poles.
Great kids game
Bought this for my 2 year old nephew and he and his four-year-old sister had a great time playing with it. I was looking for something unique and this definitely fit the bill.
2 year old likes it, and I love that it has it's own container for storage.
Purchased for my 2 year old grandaughter for xmas. She really likes it. I'm happy with it as well, love that it comes with so many different types of fish, the wood handles screw off and on so to fit into the self contained cardboard container, which is great. I'm sure with time she will learn how to turn the reel to maneuver the fishing line (rope) up & down.Well made, colorful, fun.
Good even for a 2 year old. Good quality.
I was hesitant to buy this for my just turned 2 year old, unsure if he would want to play with it. I got it in today and he absolutely loves it!! The quality of the product is good, the fishing poles reel in and out and the magnets are small but work good. Overall a wonderful product!!
2 year old loves this but cord handle can be dangerous.
I bought this for my grandson's 2nd birthday, and he loves it. The fish are easy enough to catch that a little one can do it easily. As other reviewers have said, the "water" is small, perhaps 15 inches diameter, but we see that as a plus because he likes to lay it out himself. He likes to arrange the fish on the water and knows to put the magnet side up. Loves putting the fish in the bucket then dumping them back out. He needs help opening the bucket and putting the handles on the poles but then plays with it for a long time.An IMPORTANT CAUTION. Cut the cord handle off the bucket. He put the bucket on his head like a hat, and it slipped to the back of his head with the handle cord around his neck choking him. The magnets appear well attached but would be a choking hazard if one came loose.